一、用途 Application
GW4-12TQ(D)W型户外高压隔离开关是频率为50HZ-60 HZ的户外高压电器设备,供高压线路在有电压无负载情况下进行换接,以及对被检修的高压母线、断路器等电器设备与带电的高压线路进行电气隔离之用。也可用于分、合很小的电容电流和电感电流。
GW4-12 (D) W outdoor high-voltage disconnector is outdoor high-voltage equipment with 50-60Hz frequency. It can be changed and connected for high-voltage line under voltage and no load conditions; it also can be electrically disconnected between the HV electrical equipments such as the overhaul of high voltage busbar, CB, etc. and high voltage cables, also can be used to open or close small capacitor current and conductive current.
二、使用环境条件 Application Ambient Condition
1 、海拔高度不超过1000m;
Altitude height is not more than 1000m.
2 、环境温度:上限+40℃,下限-40℃;
Environment temperature is from -40℃ to +40℃.
3、风速不超过40.5m/s;
Wind speed is not more than 40.5m/s.
4 、地震烈度不超过8度;
Earthquake intensity is not more than 8 grades.
5 、绝缘子污秽等级:普通级为0级;防污型为
III
级;
Insulator's pollution level: Normal class is 0, anti-pollution is III level.
6、安装场所应无易燃物质、爆炸危险、化学腐蚀及剧烈震动。
Installation place where has no fire, explosion, chemical corrosion and sharp shakes.
三、技术数据 Technical Data
隔离开关的主要技术参数见下表 Main technical data of the disconnector as follows:
项目

Item

参数

Technical data

额定电压 Rated voltage

12 kV

最高工作电压 Max. work voltage

12 kV

额定绝缘水平

Rated

Insulation

level

一分钟工频耐受电压 (有效值)

1 min power frequency withstand voltage (value)

对地

To earth

42kV

断口

Fracture

48 kV

雷电冲击耐受电压 (峰值)

Lightning impulse withstand

voltage kV(peak value)

对地

To earth

105kV

断口

Fracture

120

额定频率 Rated frequency

50 or 60 Hz

额定电流 Rated current

2000

2500 A

热稳定电流 (有效值)

The current of thermal stabilization (value)

40

40kA

动稳定电流 (峰值)

The current of dynamic stabilization (peak value)

100

100kA

接线端额定纵向机械负荷

Rated vertical mechanical loads of connection end

500N

Equipped mechanism

CS8-6D手动机构

CS8-6D manual operation mechanism
CS8-6D手动机构 Manual mechanism
| | |
| --- | --- |
| 辅助开关极数 Pole number of auxiliary switch | 一个八节 Eight for each |
| DSW4电磁锁 DSW4 electromagnetism lock | 无 Nothing |
四、结构 Structure
1、隔离开关的结构The structure of disconnector
It is the double-poles horizontal rotary type structure, the installation diagram as Figure 1.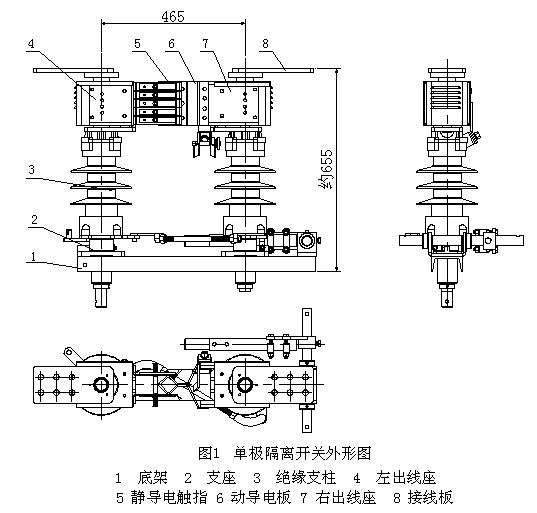 Figure 1 Outline Diagram of single pole of disconnector
1 Base shell 2 Supporter 3 Insolating poster 4 Left outgoing cable base 8 Wiring block 5 Static conducting contactor 6 Dynastic conducting board 7 Right outgoing cable base
Each pole is composed of three independent single poles and each single pole is composed of base, insulator supporter and conductive parts.
每极有两个绝缘支柱分别固定在底座两端的衬套上(图2)、以连杆连结,每个绝缘支柱可以
水平旋转
,转角为90°,绝缘支柱上装有
导电接线座
(图3)、左、右触头(图4)。左、右触头通过导电板在两个绝缘支柱中间接触。
Each pole has two insulation supporters that dividedly fixed on the bushing of base's two sides (Figure 2), with links by rod. Each insulation supporter can horizontally rotate and the angle is 90°. The conductive wiring block (Figure 3) and left/right contactors (Figure 4) on the insulation supporter. The left and right contactors contact through buabar in two insulation supporters.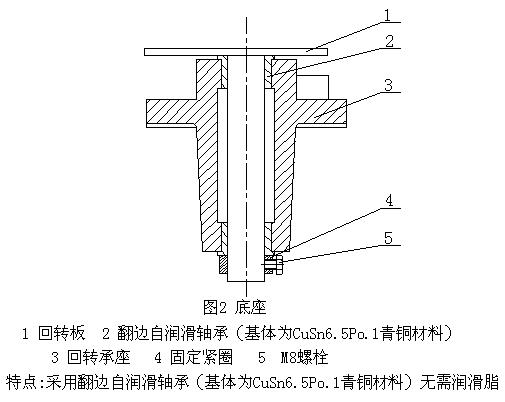 Figure 2 Base
1 Rotary board 2 Self-lubricating bearing (body is CuSn6.5Po.1 bronze material)
3 Rotary bearing 4 Fixed tight ring 5 M8 bolt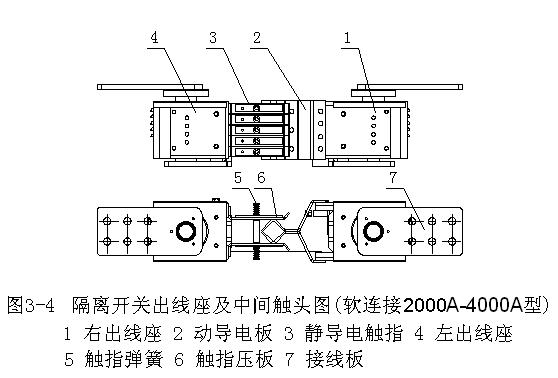 Figure 3, 4 Diagram of Outgoing Base and Middle Contactors
(Soft connection 2000A-4000A)
1 Right outgoing cable base 2 Dynastic conducting board 3 Static conducting contactor
4 Left outgoing cable base 5 Contactor spring 6 Contact clamp 7 Wiring block
2、接地开关的结构 The structure of earthing switch
接地开关静触头固定在隔离开关的
导电管上
,动触头安装在底座上的接地闸刀钢管的端部。
The static contact of earthing switch is fixed on the conductive pipe of disconnector. The dynastic contact is installed on the end of earthing knife in the base.
3 、隔离开关与接地开关的机械联锁
The mechanical interlock between disconnector and earthing switch.
隔离开关与接地开关的机械联锁部分是通过CS8-6D型手动机构上的
联锁盘
来实现的。
The mechanical interlock is realized through the interlocking panel of CS8-6D manual mechanism.
手动机构CS8-6D为单接地机构(见下图)。其操作手柄为水平旋转,转动角度为90°。
The CS8-6D manual mechanism is with single earthing switch (the below figure). Its operating handle horizontally rotates with 90° angle.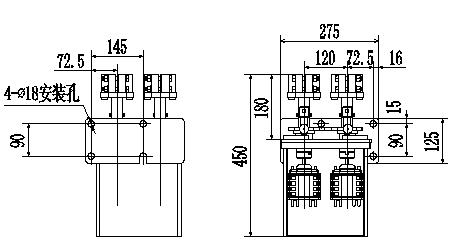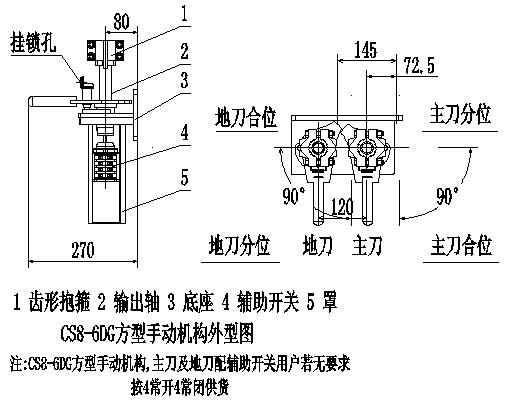 五、动作原理 Action principle
1、隔离开关动作原理 Action principle of disconnect
隔离开关的操作机构通过连接管与隔离开关的主动级相连,机构主轴旋转90°,带动主动级的绝缘支柱旋转90°,底座内的
连杆
带动另一侧绝缘支柱按相反方向
旋转
,实现分、合闸动作,主动级通过极间联动管、带动另外两个从动极转动,从而保持三相
同步动作
。机构中的辅助开关与机构主输出轴相连,在分合闸位置时发出相应的分合信号。
The operation mechanism of disconnector connects its main pole by linking pipe. The main axle of mechanism rotates 90° to make the insulation pillar of main pole rotated. The connecting rod inside of base takes another side of insulation pillar along anti-direction to rotate, which realizes opening and closing action. The main pole takes another two driven poles rotated by phases' interlocking pipe and maintain three phases' synchronous actions. The auxiliary switches in mechanism connect with main output axle and give the relative signals in the open and close positions.
2、接地开关动作原理 Action principle of earthing switch
三相接地开关的主轴,用水平连接管通过接头连接起来,操作机构的手柄
水平旋转
90°,通过连杆带动水平连接管转动,实现接地开关分、合闸动作。
The main axis of three phases earthing switch is connected with the horizontal linking pipe by joints. The handle of operation mechanism is horizontally revolving 90° and realizes the earthing switch opening and closing actions through connecting rod leads the rotation of horizontal connecting pipe.
3、手动机构动作原理 Action principle of action mechanism
The operating mechanism connects disconnector and earthing switch's main axis through linking pipe. CS8-6D manual mechanism is equipped with disconnector including earthing knife. Its output axis hasn't mechanical interlocking board. It can guarantee to operate according to regulated procedures (main opening – grounding closing – grounding opening – main closing).
六、外形安装尺寸图 Ootline and mounting dimensions
七、订货须知 Order Notice
1、订货时应说明 Please confirm the following items when you order:
1) 产品型号 Product type
2) 额定电压 Rated voltage
3) 额定电流 Rated current
4) 有无接地装置或接地开关种类、方向和类型
Includes earthing device or not; the kinds of earhing swith, direction and type.
5) 污秽等级:(未注按0级供货)。
Pollution level: (if no any remarks, supplied according to 0 level)
6) 机构型号,辅助极点数目:(未注按CS11机构供货,辅助极点4开4闭)。
The type of mechanism, numbers of auxiliary poles. (if no any remarks, supplied according to CS11 mechanism; 4-open and 4-close auxiliary poles)
Whether with electromagnetic lock and the type of electromagnetic and control voltage.
If you have special requirements, please inform and we will assist to solve it.